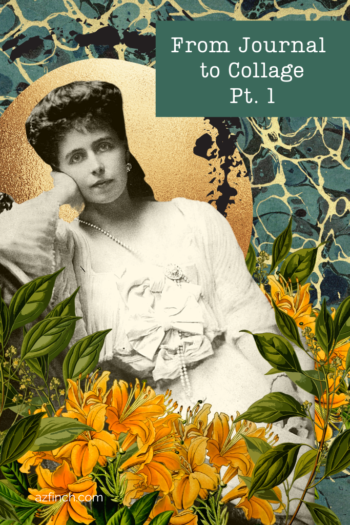 Many of my own collages are created through thinking about a specific event or feeling I've had recently, and developing a visual story for them. Though the connection between my experience and my collage may not be obvious to anyone but myself, it makes for a good visual journal of my own life.
Collages that tell a story are the most fun to make and the most interesting to look at. Whether it's your own story or someone else's, using a story as a basis for creating a collage can yield fantastic results.
And the nice thing about using stories as collage ideas is that EVERYONE has a story to tell. Your life is a story! Why not use that story as inspiration for your collages?
That said, I know many of you probably aren't used to thinking about your life as a story, or as inspiration for creating art. The first step is to find a source of inspiration and keep track of it somewhere. Since you're using your own life experiences as inspiration, that means keeping track of it using a journal, planner, or notebook.
This is the first post in a (short) series of how to develop a collage from inspiration to completion, using a journal!
How to find inspiration from life
1. Keep a list of topics/inspirational keywords in a notebook.
However you decide to find a collage subject, you'll need to keep track of them. I recommend going old school and using a paper notebook. We might be making digital collages, but the physical act of writing something down can lead to better results than just typing things all the time. It's like taking notes in class vs. typing them– you remember things better if you handwrite them, and so too you'll remember topic ideas better if you write them into a notebook.
I recommend writing something at least once a week. You might want to try brainstorming a huge list of potential collage subjects and then crossing out the ones you end up using. This can be as detailed or as simple as you'd like; the important thing is to just start the habit of doing it.
2. Keep a journal!
I've been a journal-writer since I was a child, but dropped the habit around collage. I've recently picked it back up and it's been fantastic for working through things.
The benefits of keeping a journal are vast, but in particular: it'll bring you clarity. The physical act of writing out your thoughts and feelings can release all kinds of things you might not have known were inside you, and that can translate into your art later on.
Once a day, one a week, or once a month: it doesn't matter the frequency of your journal, as long as you're writing something consistently. Get used to writing about your life and describing what you're doing, feeling, thinking. Even one line of even small stuff like what you ate for dinner can build a habit of diving deeper into your own life.
And don't forget to go back and read old journals, too! Even our past selves can bring inspiration.
3. Save articles or quotes on a Pinterest or Pocket account.
We don't live in a bubble; many major events happen every day, and even if you don't experience them directly yourself, you can use them as inspiration for your art. Save articles and quotes for things that inspire or interest you.
If you're already a hardcore Pinterest user, you probably have a huge collection of articles and quotes you can pull from. For myself, I read a lot of articles online and save them to my Pocket account. These aren't my own life experiences, of course, but they can be good starting points. Perhaps I could develop a collage on how I feel about a specific article, or make a collage FOR someone in those articles. The point is to think of a specific event and move forward from there.
4. Ask family about their experiences.
As I said before: we don't live in a bubble. Family events are just as interesting and unique to each person as anything else. Plus, one person may experience an event in an entirely different way from someone else. Ask your family about their own life events, or how they felt about something you did together.
For instance, a family vacation to Disney World could yield many different points of view. One child might've loved Animal Kingdom, while another thought it was boring. Mother might've been distracted by a time table and missed something fun, while Father was overly concerned with his sunburn, etc.
5. Look at your planner.
If all else fails: pull topics from your to-do list! There's major crossover between visual artists and planner artists, so it wouldn't surprise me at all if a lot of you carried around a day planner or two. So why not use your daily entries as a starting point to pull topic keywords? You've already done the work of writing tasks down, so now make them do double duty by turning them into a collage.
---
I suppose one of the upsides of living during a worldwide pandemic is having lots of new experiences and events to pull collage ideas from…
If you found this post useful, please it share with a friend!