This is the first in a series of posts of how I make digital collages!
—> This post contains affiliate links, meaning I get something if you use them with no extra cost to you. For more info on that, see our disclosure page.
I make all my digital collages using Canva. Canva is an online image editing app with free and paid membership options– I use the paid version, because it has more features and storage space than the free version. If you've never used Canva and want to try it out, you should be able to do everything in this post with the free version.
(I'll do a write-up on Canva soon!)
However, you don't HAVE to use Canva to make your own digital collages. This is especially important if you're not on a high-speed internet plan, since Canva depends on an internet connection.
Other options you could use besides Canva: PicMonkey (paid), Adobe Photoshop (paid), Krita (free), Paint.NET (free, Windows only).
Whatever program you end up using, the basic steps will be the same! But because it's what I'm most familiar with Canva's what I'm going to use for this series of how-to posts.
Making collage backgrounds with Canva
Digital collage backgrounds can be as complicated or as easy as you need them to be. I usually end up making them complicated, because I really like the look of multiple layers and textures in my digital collages. But other artists make them very simple: one or two solid colors, a single photo, or even just plain white. It all depends on what you like!
The basic idea is to make sure all image elements blend together, so the background looks like it's all one piece and not multiple separate pieces. To accomplish this, I use Canva's filters and transparency options. I also change colors of different elements, if needed, so that they look complementary.
Short overview of Canva's editing options
Canva's filters change the color and tone of the image. I use the Nordic, Greyscale, and Street filters a lot, since they give photos a more vintage look.
You can also manually adjust the colors/tones yourself, or adjust the filter itself. I often move the "Intensity" slider to create a more subtle look.
The transparency option is located on the top right in the menu bar. It's good for adjusting the transparency of a particular image. I often use this to create subtle textures and layers in my background.
Canva also has a feature called "Effects," which edits an image using, well, an effect. I don't usually use this for backgrounds, but it's an option– especially if you like vaporwave style art. It creates a more computer glitch-y style effect which can be really cool. I used it in "Triplets" to get that dotted look:
Canva has free images you can use for backgrounds, under the "background" tab on the left sidebar. If you click on one, it'll automatically fill the entire piece. However, I almost never use these photos because I prefer to use my own image collection. All my ephemera and public domain images are in my upload folders, sorted by type. (I'll do another post about this in the future.)
Putting it into practice
I'm going to use one of my newer pieces, "In the Woods," as an example. Here's the finished image:

For "Woods," I started with a painted background layer I found on Pixabay.
The base image already looks a heck of a lot like a mixed media background page! This is one of the easiest ways to start: with an image that already has a lot of work done on it.
However, I NEVER leave an image exactly as it is, because I want to make sure my art is my own style. I think it's very boring to just use an un-edited image in any part of my collage, so I always end up tweaking something to make it unique.
Here's the background once I've made it personalized to me:

Personalizing a background
Add a loop/swirl in a contrasting color, and then adjusted the opacity so it blends. The swirl is from Canva's collection of free elements. I changed the color to white, and then adjusted the opacity to 38%.
This is a fast, easy way to add texture and interest to a background. It's similar to using a stencil, or swirling a paintbrush through a damp background. It also creates a lot of movement!
Add scribbles and doodles. The little white triangles and the grouping of small lines are from Statement Goods and are available in Canva's free elements.
I almost always add in doodles somewhere in my collages, because it gives a piece more of a handmade look. Sometimes digital collages can look too mechanical, or obviously Photoshopped. I prefer a handmade, messy style…so I add in handmade-looking elements!
It's easy to make your own doodle elements if you want, and then digitize them for your collages. That's a really fun way to personalize your art.
Other texture options are add ink splotches, coffee stains, or paint splatters— all found either through Canva's free elements or from one of the free public domain images resources. Or I could make them myself and upload them into my collection.
Other background techniques
I also often blend two background images together to make something new. For instance, here's the background for my piece "Pink and Gold."

It's a combination of a "galaxy" image and a vintage handwritten paper image. I put the handwritten image on the bottom, then put the galaxy image on top and adjusted the opacity to 50%. It looks a little like I've painted over a vintage letter! And then to finish it, I put a big ink blotch and adjusted the color to be slightly more purple.
In general, I recommend putting the non-painted image on the bottom and layer a painted image on top. It tends to blend better than the other way around.
Here's another example where I layered two images for a background, from my piece "Butterfly Garden." I started with a vintage map and then layered a painted background image on top, adjusting the opacity to blend it together.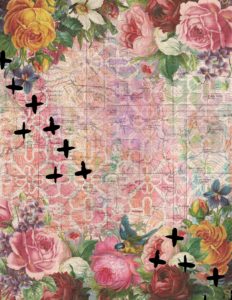 I then placed some vintage flower borders (from Pixabay) and used Canva's Nordic filter to adjust the color. Originally, the flowers were very bright! Once I applied the filter, the color tones worked a lot better with the rest of the background.
I also added some doodles (from Canva) and some watercolor splotches (from Pixabay) to help tie everything together. Because I've adjusted the opacity and adjusted the colors using filters, it all blends together and looks like one piece.
---
Canva's built-in photo editing tools makes it very easy to edit images from different sources and create one fantastic background. In my next post, I'll go over adding in a focus image, and how I add it onto the background.