Every year there are more and more resources becoming available for free public domain or royalty free images! That's great news for digital artists, since it means more amazing photos, illustrations, and ephemera to work with. The majority of the image elements I use in my digital collages and junk journals are from public domain websites and sources; I depend upon them heavily and am always looking for more websites to find things to add to my collection.
Public domain means that the works are no longer held under copyright by any person or corporation, and any individual person can use them for any purpose, including commercial use. Nowadays that basically means anything created before 1924 is now in the public domain (in the United States, at least).
Creative Commons licenses
Many of the websites on this list utilize a Creative Commons license to explain usage rights for their images and scans. Many museums have digitized their copies of art and put them up online, making them free for users to access and download. This has created an interesting question of usage rights! While a painting may be public domain because of its age, a photograph of that painting can still be under copyright. Museums then choose to release that photograph under a specific license which dictates how people can use that photograph.
For instance, an image under a Creative Commons Zero (CC0) license means that the create of that image agrees to "waive all copyrights and related or neighboring rights that you may have in all jurisdictions worldwide, such as your moral rights (to the extent waivable), your publicity or privacy rights, rights you have protecting against unfair competition, and database rights and rights protecting the extraction, dissemination and reuse of data." That means you can use that image any way you'd like, including for commercial usage!
Other Creative Commons licenses may have specific rules about attributing the source of the image, editing the image, re-sharing the image, etc. If you're ever unsure about how you can use a specific image of a public domain work, check the source website's Creative Commons license for details.
Free public domain images for art

1. Rijksstudio.
This is the digital collection of the Rijksmuseum, the national museum of the Netherlands. It encompasses 700,000 works available under a Creative Commons 1.0 Universal license, which makes them (basically) copyright-free and royalty-free. Works include paintings, sculptures, books and calligraphy, photographs and more. You do need to register for an account to download, and if you want very high quality TIFF files you have to make a special request using a form. Their goal is to add 40,000 works per year until they digitize their entire million-plus collection, so be sure to check back for updates!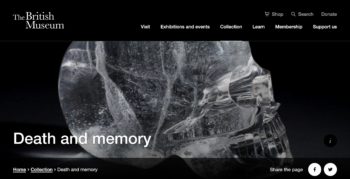 2. The British Museum Digital Collection.
This digital collection has a million objects cataloged and includes high quality images of statues, paintings, fabrics, photographs, and other works. There are some curated collections available to browse through, such as the very intriguing "death and memory." Images are only to be used for non-commercial works and are under a Creative Commons Attribution-NonCommercial-ShareAlike 4.0 International (CC BY-NC-SA 4.0) license which places some further restrictions on use. Here's the British Museum's Copyright and Permissions page for more info.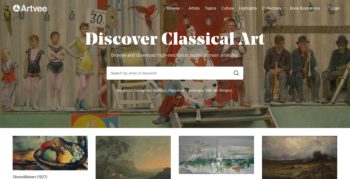 3. Artvee.
A wonderful collection of high resolution images of public domain artworks, including paintings, drawings, and other paper-based art. Images are in 300 DPI, making them suitable for digital collage work. You can also browse through collections organized by topic (e.g. elegant, child, propaganda) or culture.

4. The Met Museum Open Access Collection.
The Met's digital collection includes over 375,000 images of paper works (paintings, drawings, etc.) as well as 3D, including statues, coffins(!), textiles and even antique shoes. Everything is under Creative Commons Zero (CC0) license, which means it's in the public domain and is free to use for both commercial and personal usage.

5. Paris Musees Collections.
This is the online collection of all fourteen museums in the City of Paris, and includes over 280,000 works which are all in the public domain. Items include paintings, sculptures, textiles, etc. You can bulk-download multiple images of a single item, which is very handy. Most of the website is in French (despite being the "English" version), but the important links like "download" are in English which makes it easier to navigate.
>>> Need more public domain or royalty-free images?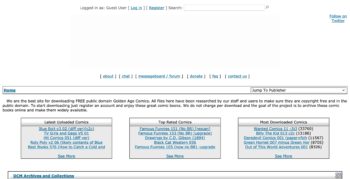 6. Digital Comic Museum.
This is a user-built collection of public domain comics created prior to 1959. While you won't find big names like Batman or Wonderwoman, it's a wonderful collection of a wide range of comic book art styles. Some of these graphics would look wonderful in collages, especially if you're getting tired of the Victorian-style vintage graphics that're usually available on these free image websites.

7. Art Institute of Chicago.
Like the other museum collections on this list, the ARTIC's digital collection has a wide variety of works including paintings, textiles, statues, etc. It's trickier to browse through than other websites, but I've linked directly to works under a Creative Commons Zero (CC0) license– i.e. only the public domain ones– so that should help a little. And of course the search bar helps cut down on extra stuff.

8. David Rumsey Map Collection.
This is the digital version of the David Rumsey Map Center hosted at Stanford University Library. High resolutions images of all kinds of historical maps from all over the world! And there's even some of space as well! Currently the collection is at 109,000 works. Images are in JP2 format, which means you'll have to convert them to PNG or JPG to use them with Canva.

9. Minneapolis Institute of Art Open Access.
This digital collection currently has over 50,000 works in its public domain section, including both paintings and 3D works of art like statues and textiles. Many of their images are available on Wikimedia Commons as well.

10. rawpixel's public domain collection.
rawpixel is a stock photo website which you usually have to pay for. However, this is the public domain collection which is totally free, including high resolution TIFF files! Works are mostly paintings and illustrations, sourced from museums' online collections, but they've been "digitally enhanced" by rawpixel staff e.g. color corrected a bit. I particularly like their curated collections, which have historical information about the artist or culture they've collected.
---
If you found this post helpful, please share it with a friend!